One for the Money stars Katherine Heigl as the character adored by millions of Janet Evanovich fans, Stephanie Plum. Her exploits have resulted in 18 books by the author and her first to hit the big screen, One for the Money, is out now and has given us an armful of fantastic quotes.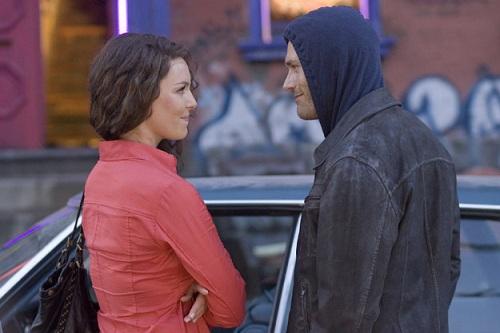 Heigl's Plum must find a job. When she's just about out of options, she takes a job as a bounty hunter for her cousin's bail bonds business. Her first assignment is to bring back a cop who is being sought for murder. The fact that the man, Joe Morelli, is also the high school chum who did her wrong back in the day, makes it all the better.
Sherri Shepherd stars as Lula, an Evanovich character beloved almost as much as Plum. She is the classic hooker with a heart of gold and herself provides some of the best One for the Money quotes.
Stephanie Plum: Damn skippy! | permalink
Jackie: Lula, a snack?
Lula: You always complainin'. It's hot. I'm hungry. | permalink
Lula: If you want information from Lula, you goin' have to bring her a snack. | permalink
Joe Morelli: How does a person eat like you eat and look like you look?
Stephanie Plum: Hey, why are you messing with my Tasty Cakes, huh?! | permalink
Stephanie Plum: They blew up our car!
Joe Morelli: Excuse me, whose car?
Stephanie Plum: Your car. You want it back? | permalink
Lula: We got this good cop bad cop thing going… Except we're hookers. | permalink
Stephanie Plum: I'm gonna nail Morelli. | permalink
Stephanie Plum: You guys got anything full-time, part-time?
Connie: How comfortable are you with the lowlifes?
Stephanie Plum: I sold lingerie for three years in Newark.
Connie: You're good to go. | permalink
Stephanie Plum: Hookers… they always know somethin'. | permalink
Mrs. Plum: Stephanie started a new job!
Stephanie Plum: Yeah, I did. I just got a gun.
Mrs. Plum: Whoa! (Grandma Mazur checks out the gun and proceeds to shoot the chicken sitting on the dinner table)
Mrs. Plum: Put the gun away, ma!
Mr. Plum: She belongs in a home.
Grandma Mazur: Shot that sucker in the gumpy… | permalink